---
All tickets for this event have now been sold.
Talk and Castle Tours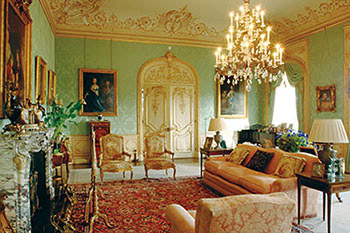 Join us for a Talk, Castle Tours led by Lady Carnarvon and a delicious tea on Tuesday 1st October at 1.30pm.
Tickets £120 per person including a complimentary Gift Bag.
---
Please gather at the Church of St Michael and All Angels in Highclere from 1pm. Tea and coffee will be available for you to enjoy on arrival followed by a short talk from Lady Carnarvon at 1.30pm.
The 4th Earl of Carnarvon commissioned the eminent Victorian architect, Sir Gilbert Scott, to build a new church just outside Highclere's Park gates in the village of Highclere. The medieval church, adjoining the Castle, had been taken down by Sir Charles Barry during the course of his work to transform the original Georgian mansion at Highclere into the present much loved family home.
---
Lady Carnarvon will share some stories of the real characters from history and, of course, looking behind the scenes at living at 'The Real Downton Abbey'. At the end of the talk, Lady Carnarvon would be delighted to answer any questions you may have.
The Talk is in aid of the Church and Chapel and all support is gratefully appreciated.
Following the talk, as you leave the Church we will give you your tickets for the Castle Tours and Tea. The Castle is a 5 minute drive from the Church or you may wish to have a more leisurely stroll through the Park with Lady Carnarvon joining you.
---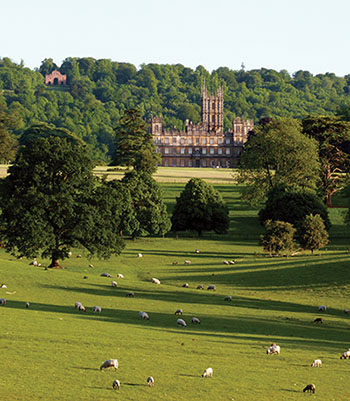 The Highclere guides along with Lady Carnarvon will welcome you into the Castle for guided tours. You will have the opportunity to see the magnificent State Rooms and Gallery Bedrooms. Guests are then invited to descend to the cellars to explore the Egyptian Exhibition at their leisure. We hope you will very much enjoy exploring Highclere before enjoying a delicious buffet of Afternoon Tea in The Castle Tea Rooms and Coach House from traditional finger sandwiches to scones and afternoon tea cakes.
A complimentary gift bag will be available to collect in the gift shop which includes a signed copy of Lady Carnarvon's "At Home at Highclere" book and we hope you will find some lovely presents to buy for yourself and friends.
Please note that the Grounds will close promptly at 5.30pm.
Dress code for the event is smart/casual. Please wear weather appropriate clothing and sensible footwear for walking or visiting the gardens.
---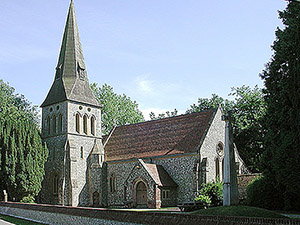 To purchase tickets for this Special Event, please click on the 1st October date in the date selector below and follow the on-screen instructions.
---
For more information on this event please contact:
Stephanie Rodrigues on 01635 253 210 or
email srodrigues@highclerecastle.co.uk