Welcome to the Online Admission Tickets desk for Highclere Castle.
Please take some time to read our Terms & Conditions and Frequently Asked Questions pages before purchasing your tickets, especially the section relating to Admission Tickets. The link menus are in the blue section at the foot of every page. Please check your ticket details very carefully before confirming your purchase.
Because of the popularity of the Castle, tickets purchased for a given date and entrance time cannot be exchanged, refunded or re-dated.
NOTES:
Ticket News update, Saturday, 19th April
The pre-booked tickets for Highclere Castle's 2014 Summer Season are now sold out. However, there are walk up tickets available each day that we open to the public. These tickets are available at the Castle Main Gate at either 10am or 2:30pm.
Ticket News update, Wednesday, 9th April
We are pleased to annouce the release of tickets for the "Heroes at Highclere" Charity Event at Highclere Castle on Sunday, 3rd August 2014.

Please click the Heroes at Highclere button on the left button bar to purchase.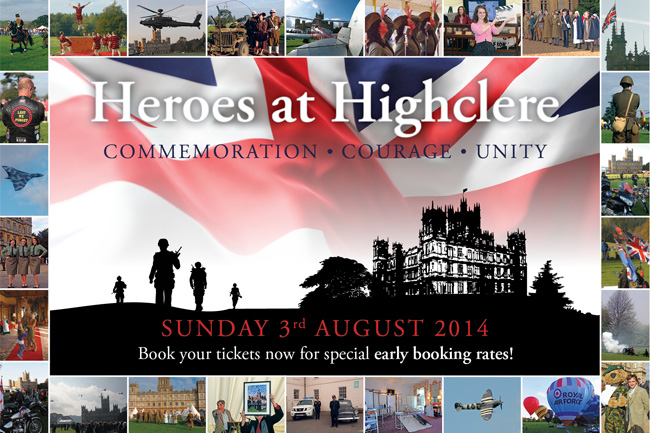 Special Event News update, Tuesday, 25th February:
Parkinson's UK Run Highclere, Sunday 11th May 2014
Parkinson's UK request the pleasure of your company for our scenic 10K road race and kids' fun run set in the beautiful grounds of Highclere Castle.
Your support at this charity run will help us find a cure and improve life for everyone affected by Parkinson's.
To sign up please visit the Parkinson's UK website.
Please be aware that Highclere Castle and Gardens are not open for viewing on this day. No dogs are permitted.
Special Event: Sunday 3rd August 2014. "Heroes at Highclere".
A commemoration of the centenary of the First World War. August 2014 is the centenary of the start of the First World War. On Sunday, August 3rd, Highclere Castle will again become a hospital. We are going to stage an extra-ordinary day to commemorate this occasion. Click here for more information. PDF information page only, tickets available later.
We look forward to welcoming you to Highclere Castle.