---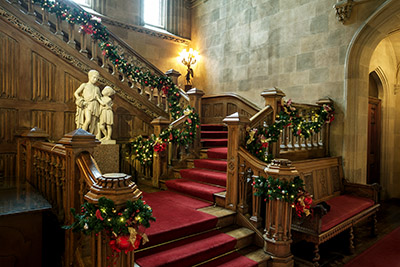 The tickets for Saturday December 8th are now sold out, but please do consider joining us on Sunday December 9th which begins with carols in the castle courtyard before inviting you to enjoy Castle tours, Exhibition tours and see the Christmas decorations. Warming traditional food will be available all day in the tearooms whilst if the weather permits, enjoy the magic of a winter garden perhaps touched with frost and mist.
Click here for tickets for Sunday December 9th
---
A beautiful traditional garland winds down the staircase leading into the Saloon, a magnificent room in which the impressive Christmas tree stands. Highclere's Victorian architecture and rich interiors are a warm foil for the wintery weather. You may well also recognise all the interiors from the TV series 'Downton Abbey'.
You will also have the opportunity to explore the 'Wonderful Things' Egyptian Exhibition, located in the Castle cellars, celebrating one of the most significant archaeological finds in history, the Tomb of Tutankhamun. Peer through into the secret chambers and learn how the 5th Earl of Carnarvon and Howard Carter came to make such a remarkable discovery.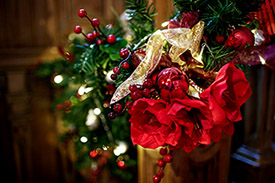 ---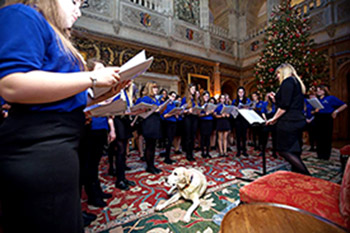 ---
Tickets for any of Winter Public Opening events must be pre-booked . We will not be selling additional walk up tickets on the day. Tickets are sold online through this website. Orders cannot be taken via the telephone.
---