---
All tickets for this event have now been sold.
Behind the scenes

at Highclere Castle
---
Planning & preparing for Christmas
---
Enjoy talks on how we prepare for Christmas from the real life upstairs and downstairs here at Highclere Castle. The talk is followed by a Guided Tour of the Castle State Rooms, up the staircase to the Gallery Bedrooms, through which you can walk in the footsteps of your favourite characters that you so enjoyed when you watched the TV series "Downton Abbey".
---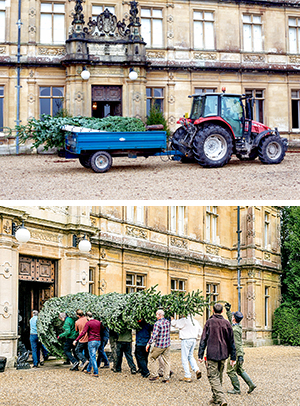 Guests are then invited to
descend into the atmospheric cellars of the Castle to explore the Egyptian Exhibition.
The Exhibition tells the story of the world-famous discovery, in 1922, of the Tomb of Tutankhamun by the 5th Earl of Carnarvon and Howard Carter.
Following your tour, you can make your way along the Castle corridors outside towards the Christmas marquee on the Castle lawns for a delicious seated traditional afternoon tea. To create a fun and informal atmosphere, guests sit together at larger tables.
---
Please take the opportunity to visit the Castle Gift Shop and explore the Gardens if the weather permits at your own leisure. We hope you find some charming gifts for friends and family to complete your Christmas shopping.
---
These exclusive tours are available for a limited number of guests.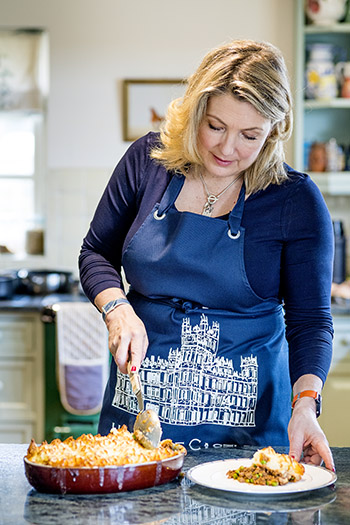 Tickets are £125.00 per person and include a Talk, Guided Tour, Traditional Afternoon tea and time to explore the Castle Gift Shop and Gardens.
Please select either a morning or afternoon ticket for the following times:
Morning Tours -Please arrive from 9.30am, for a talk on preparing for Christmas at 10am, followed by a guided tour at 10.45am and traditional afternoon tea served at 12.30pm in the Christmas marquee. Suggested departure time is 2pm.

Afternoon Tours – Please arrive from 11.30am, for a talk on preparing for Christmas at 12noon, followed by a guided tour at 12.45pm and traditional afternoon tea at 2.30pm in the Christmas marquee. Suggested departure time is 4pm.
Please note the gates to the Castle and Grounds will open no more than 30 minutes prior to your tour time and the Grounds close promptly at 4pm as it gets dark rather early!
---
The dress code for the event is smart/casual. Sensible outdoor wear should you wish to explore the gardens!
Dietary Requirements: Please note we are delighted to offer a choice of three menus: our standard, vegetarian or gluten-free. Please note that we do not offer a Vegan menu, nor can we guarantee that our products are either DAIRY FREE or NUT FREE.
To purchase tickets for these special openings, please see the date and time selection calendar below: