---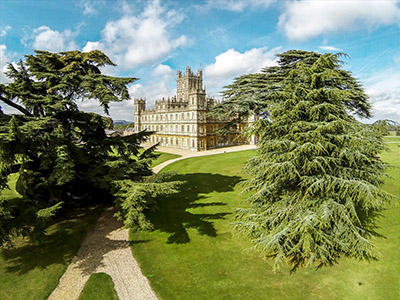 Castle Tours & Mozart in the Gardens
---
Join us for a Tour of the Castle plus a Performance of Mozart's "Gran Partita" in the Castle Gardens.
---
Sunday June 28th 2020
Tickets £150 per person 12.30pm to 4.30pm
---
Just a note: as of April 11th we still hope to welcome visitors to this event. The concert is outside with plenty of space in which to enjoy the magic of Mozart's "Grande Partita" serenade for strings . The numbers of guests are small. We hope you will explore Lord and Lady Carnarvon's spectacular home in theirr company on this lovely late June day.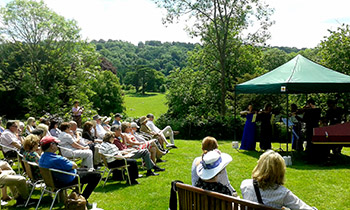 Whether you are entranced by Downton Abbey, or would like to explore the Egyptian Exhibition, we hope it will be the most memorable visit, topped by a performance of the Partita in the surroundings of Highclere's Arcadian 18th century parkland. Performed by young musicians from the Royal College of Music, this serenade for 13 wind instruments will take place by the 18th century Temple in the glorious setting of Highclere's Capability Brown designed park.

Weather permitting, there will be seating and tables of complimentary scones,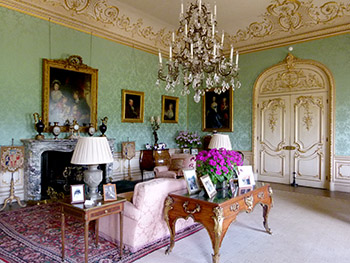 cakes and lemonade will be set up around the Temple. Our Coach House tearooms will also be open to offer you hot drinks and delicious food during the afternoon.
Sunday June 28th celebrates Jeanie, the 7th Countess of Carnarvon's inspirational music charity: the Newbury Spring Festival. She is much missed but lives on through the Festival, which she began 42 years ago. Today, it is an internationally renowned fortnight of music bringing together internationally acclaimed musicians for concerts, competitions and educational events.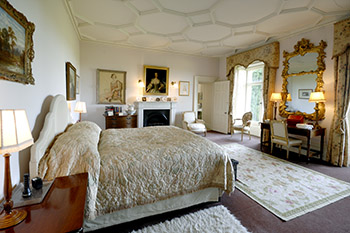 All tickets allow visitors to the enjoy the Gardens and Gift Shop throughout the event from 12.30pm – 4.30pm.
Please note if the weather suggests the concert should take place earlier followed by the Tour, we will rearrange accordingly for your maximum enjoyment.
Please use the date selector below to begin your ticket purchase.

L-R below: Mark Eynon, Festival Director, Lady Carnarvon, Jeanie 7th Countess, Lord Carnarvon