---
All pre-booked tickets for this daytime event have now been sold. There are, however, tickets still available for 'Cabaret, Champagne & Castle Tours' on Saturday evening, 19th May. Click HERE for more information. For more information regarding the 'Script to Screen' event, click HERE to visit Lady Carnarvon's blog page.
---
Script to Screen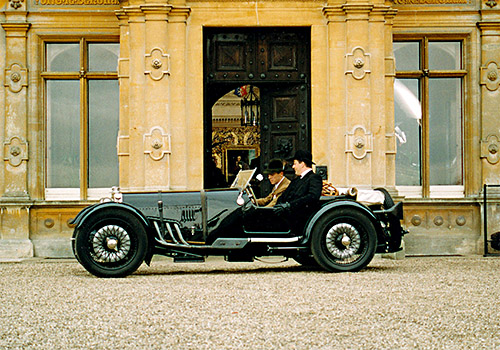 Tours, Talks and Tea
---
Daily from Thursday 17th May to Wednesday 23rd May 2018
---
Tickets: £85.00.
Included: Guided Tours of the Castle & Gardens, a short lecture, Q&A, and a light lunch.
Dress Code – Sensible - outdoor wear may be needed.
Numbers of guests are limited for each Tour.
---
For further enjoyment, join us for Cabaret, Champagne & Castle Tours. Saturday Evening, 19th May 2018. Click for more...
---
Come to Highclere Castle and enjoy a lecture, a guided tour of the Castle and a light lunch, as well as an opportunity to visit the gardens.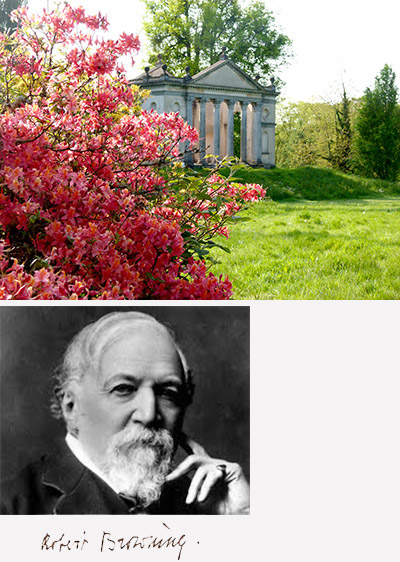 This week of tours and talks next May showcases so many enjoyable aspects. The famous azaleas in Highclere's gardens will be covered in colour and scent. They stretch across the Lawns in front of the folly, "Jackdaws Castle". Azaleas altaclarense (Highclere) are now to be found in many gardens on both sides of the Atlantic Ocean. The gardens beyond will delight you with the cherry trees, tulips and early scented shrubs. Enjoy them at your leisure or with one of our guides!
In fact, the poet Robert Browning, who often stayed at Highclere Castle as a guest of the 4th Earl of Carnarvon, wrote of the joys of an English spring. Dreaming from abroad, he wrote:
"Oh, to be in England Now that April's there,
And whoever wakes in England
Sees, some morning, unaware,
That the lowest boughs and the brushwood sheaf
Round the elm-tree bole are in tiny leaf …
….And after April, when May follows,
And the whitethroat builds, and all the swallows!
Hark, where my blossomed pear-tree in the hedge
Leans to the field and scatters on the clover
Blossoms and dewdrops -"
---
As well as giving you an opportunity to enjoy the Gardens this week, "Script to Screen" will explore how books and scripts are transformed into the successful television shows and films that we all love.
---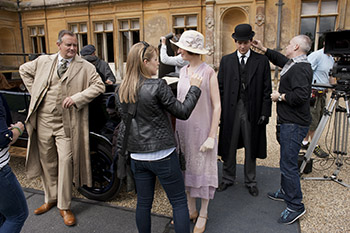 For centuries, the main recreation and source of instruction was from the world of books. The Library at Highclere Castle is one of the best known State Rooms in any English Stately Home. With beautiful proportions, views over rolling Lawns, gilded shelves, which are labelled and organised, deep armchairs and cosy lamps, it suggests a place to read and converse. It contains over 6,500 books dating from the early 15th century to today, including works on architecture, botany, travel, history, biographies as well as diaries and novels. Some of these novels and books have become films although TV and film have only been part of everyday life for the past 50 to 100 years.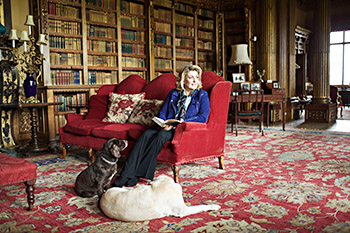 Lady Carnarvon is delighted to share the legacy and joy of books as well as the especial pleasure that Downton Abbey gave so many viewers around the world. Gathering together fascinating speakers, come and enjoy hearing their stories,talks or interviews. The Guided Tours show you the rooms which were both the set for Downton Abbey and are home for Lord and Lady Carnarvon. Downton Abbey, however, was not the first TV series or film shot at Highclere: in fact, the Castle has been the location for a number of films and TV shows, including "Robin Hood, Prince of Thieves", "Eyes Wide Shut", "The Secret Garden", "Jeeves and Wooster" and parts of "Inspector Morse".
---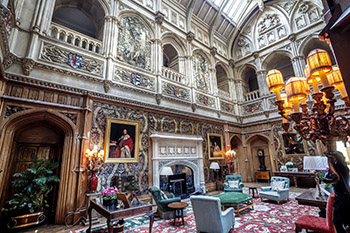 The lectures will take place in the Saloon, the heart of the Castle, although the "Grantham" family called it the Great Hall.
A light lunch is included to enjoy in our Tearooms or on the Lawns, weather permitting. In addition, the Gift Shop will also be open and further breakfast croissants and coffees, cakes and scones are available for purchase in the Castle Tearooms and Cafes throughout the day.
---
Numbers are limited and we ask you to pre-book. There is a choice of three arrival times: 10am, 12noon and 12:30pm.
To purchase tickets for these special openings, please see the date selection calendar below.
---
Regretfully, we are unable to accommodate mobility scooters in the Castle. We do, however, have a limited number of manual wheelchairs available for use by Castle visitors. Please contact the Castle Office on 01635 253210 to discuss your wheelchair requirement. Wheelchairs can access the ground floor of the Castle. However, the first floor is accessible by stairs only. Please note that there is disabled access in the Gardens via our gravelled paths.
---