All tickets for this event have now been sold.
Pre-Booked tickets only and all tickets include Tours of the
Castle, Egyptian Exhibition, Gardens, Gift Shop & Tea Rooms.
£25.00 per adult/£10.00 per child.
---
Tours of the home known to millions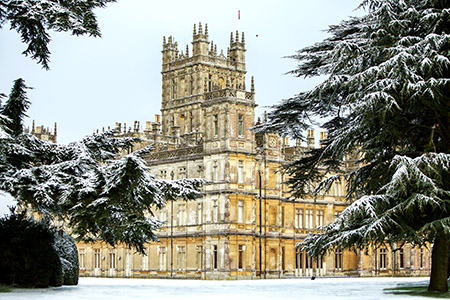 as "Downton Abbey" and Carols in aid of Médecins Sans Frontières (also known as Doctors without Borders).
---
"When most of us would be fleeing from disease, disaster and war, the doctors nurses and support teams from MSF go in. They are extraordinary brave and practical, an international humanitarian medical non-governmental organisation (NGO). The doctors and nurses go to help the people in the greatest need, wherever and whenever they need it. This will always be what motivates them"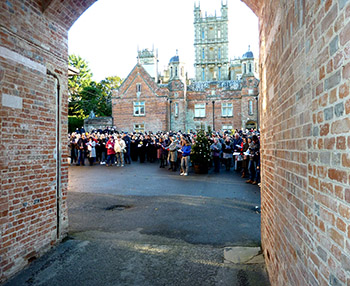 Please join us from 10am when the gates and parking will open. In the Castle Courtyard you will find the Tearooms ready to offer hot coffees and croissants whilst you explore the Gardens, or visit the Gift Shop for Christmas gifts.
We ask everyone to gather in the Courtyard of the Castle at 11:00am come rain or shine, and stand with us to sing together during a short church service.
Afterwards, please join us to tour both the Castle and the Egyptian Exhibition.
---
In order to give all our visitors an opportunity to view both the Castle State Rooms and the Exhibition, we have organised two separate tour schedules, (although, as above, all are welcome on site from 10am):
Visitors who have entry ticket A (entry from 11:30am) will tour the Castle first, before exploring the Egyptian Exhibition.

Visitors who have ticket B will explore the Exhibition first (entry from 11.30am), followed by entry to the Castle.
Our Tea Rooms will be open all day, selling homemade soup, light lunches, hot food, and of course cakes and scones.
---
In each case, there will be plenty of time to see everything; we are only trying to disperse any long queues, to make the experience more enjoyable for you all. Please note the grounds close at 4.30pm due to the time of year. Because this event takes place in December, we advise visitors to check on the day for the latest weather and travel information. This event will take place outside, so please do wear sensible warm and waterproof outdoor clothing and footwear.
The weather may often be challenging in some of the war torn areas of the world in which MSF seek to help. However, it may also be cold and unkind here in England. So, we would ask that you arrive well prepared for the Service which will be held in the Courtyard area at the rear of the Castle. We all can then go in to find warmth and food in the Castle Tea Rooms, whereas the MSF doctors and their patients abroad may not be so lucky.
Please select your time slot below when purchasing your tickets.
Castle tickets will be split into AM and PM admission. You are welcome to enjoy the Gardens, Gift Shop and the Tearooms throughout the day.
The following ticket options are available:
| | |
| --- | --- |
| Ticket Category | Price |
| ADULT - Castle, Exhibition & Gardens (AM or PM) | £25.00 |
| CHILD - Castle, Exhibition & Gardens (AM or PM) | £10.00 |
*A child ticket is for those aged 4-16 years of age. Children under the age of 4 will receive free admission.
For these two days of special festive opening we are unable to offer any discounted/concession rates or free admission for HHA members or Blue Peter badge holders. However, as per our normal policy, a necessary carer of a registered disabled visitor will receive free admission.
Tickets for any of our Public Opening events must be pre-booked. We will not be selling additional tickets on the day. Tickets are sold online through this website. Orders cannot be taken via the telephone.