---
Join us on Saturday 13th or Sunday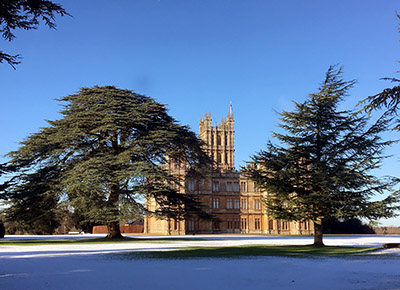 14th February 2021 to celebrate Valentine's Weekend at Highclere Castle.
---
Enjoy a tour of the Castle and Egyptian Exhibition as well as vintage costumes followed by a Champagne Afternoon Tea, complete with a special complimentary Gift Box.
Tickets are £125 per person
---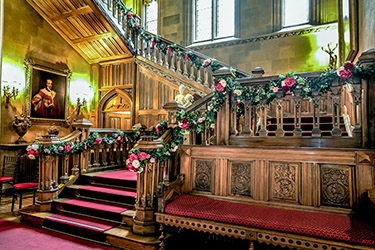 Our guides will take you through the State Rooms that are so familiar from the wonderful TV series, Downton Abbey. Enjoy hearing about the history and the works of art, as well as anecdotes from the filming.
You will also have the opportunity to explore the Egyptian Exhibition in the atmospheric Cellars of the Castle. The Exhibition tells the story of the world-famous discovery, in 1922, of the Tomb of Tutankhamun by the 5th Earl of Carnarvon and Howard Carter.
---
As ever, Winnie the Pooh is an excellent place to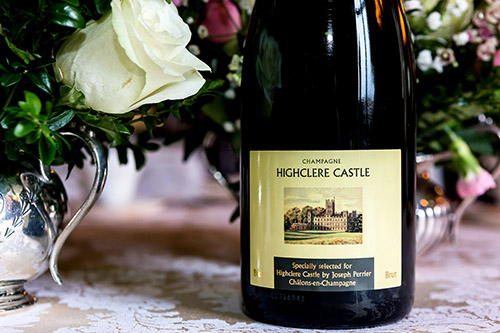 begin to think about love:
"If you live to be a hundred, I want to live to be a hundred minus one day so I never have to live without you." A. A. Milne.
---
So many happy scenes, weddings and engagements took place in "Downton Abbey" so we hope you will enjoy walking down the stairs, as moments from the silver screen and a real home become one experience.
---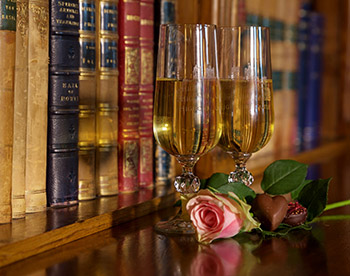 "Statesmen, Royalty, couples, those in love, whether upstairs or downstairs, have all walked though Highclere's rooms and corridors. Please do join centuries of romantic tradition for a Valentines Day Tea at the Real Downton Abbey."
Lady Carnarvon
---
The Tours are carefully timed to give you the pleasure of seeing the Castle without feeling crowded. Please note that we allow 45 minutes for the Champagne Afternoon Tea which takes place in the Buttery and the Coach House, each of which are decorated with behind the scenes Downton Abbey memorabilia. These rooms offer interest and space between tables, as well as giving us time in between each sitting, for our enhanced cleaning this year.
---
Please choose from the following times: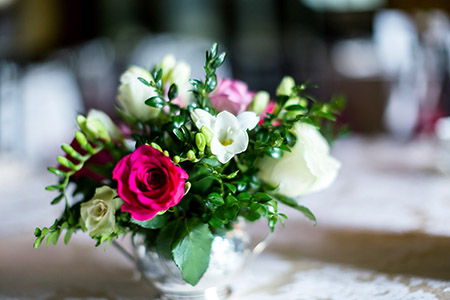 • 10.30am
• 12 noon
• 1.30pm
• 3.00pm
---
Guests with admission tickets for 10:30am,12:00 noon or 1.30pm are most welcome to enjoy the Gardens and visit the Gift Shop after their Castle visit. Guests with admission tickets for 3:00pm are welcome to arrive on site from 2:00pm to allow sufficient time to enjoy the Gardens and visit the Gift Shop.
The Grounds will be closed at 5:30pm.

Each ticket includes a wrapped signed Highclere coffee table book ('At Home at Highclere', £30 RRP) as well as a Highclere Castle tea towel (£7.95 RRP) and you will find a little booklet of poems and quotes on your table when you sit down to toast each other.
---
Winston Churchill wrote to his wife Clementine:
"I always feel so overwhelmingly in your debt, if there can be accounts in love.... What it has been to me to live all these years in your heart and companionship no phrases can convey."
---
Dietary Requirements: Please note we are delighted to offer either Traditional, Vegetarian or Gluten free menus. Please make your menu selection from the form below. Please note that we do not offer a Vegan menu, nor can we guarantee that our products are either DAIRY FREE or NUT FREE. Click HERE for more information regarding our Afternoon Tea Menus.
Dress Code: Smart Casual.
Local places to stay: There are some charming pubs and hotels within 10 minutes of Highclere, so please do have a look at our main web site. Click the link HERE for more information. You are most welcome to arrive one hour beforehand, to give you time to enjoy the Gardens and Gift shop or, if your Tour is earlier, please enjoy the Gardens and Gift Shop afterwards.