---
Magic of the Movies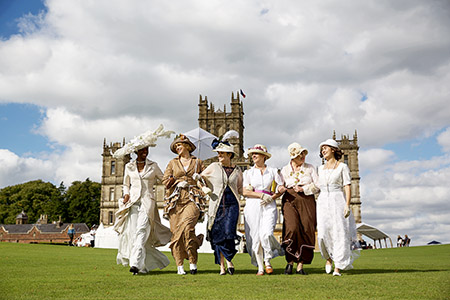 Saturday 11th & Sunday 12th September 2021
---
The Earl and Countess of Carnarvon
cordially invite you
to be a part of the "Magic of the Movies". From a Highclere scene to the silver screen, join us at the set of the film of "Downton Abbey" for a weekend to remember with Tours of the Castle. Admire a selection of costumes from the 1920's era whilst sipping on some vintage inspired cocktails at Highclere' s own cocktail van "Josephine Van-essa".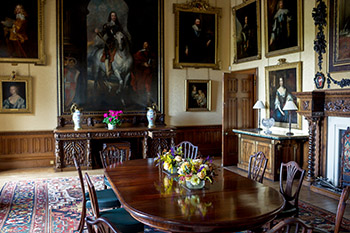 It will be a 1920's event to enjoy the glamour, sophistication and glitz of the era alongside the beautiful backdrop of Highclere Castle, the Real Downton Abbey.
Step back in time and delve into your wardrobe. We invite you to come dressed as your favourite Downton Abbey character. Explore the magnificent State rooms of the Castle, Gallery Bedrooms and Egyptian Exhibition and imagine yourself in your favourite scene.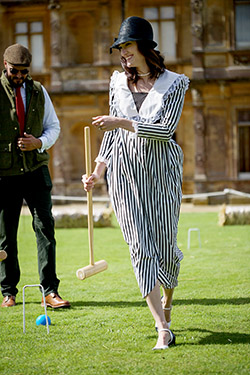 ---
Prizes will be given for best dressed in various characters and categories including "best upstairs", "best downstairs" and "best hat". The outfits will be judged by Lord and Lady Carnarvon and some of the Highclere staff, the real Butlers. We hope you enter into the spirit of the event and enjoy putting your costume together.
Learn to dance the Charleston with The Gatsby Girls, or listen as Alex Mendham and his Orchestra perform stylish music of the 1920's. Ride on the carousel and admire the vintage cars parked outside the front of the Castle. Treat yourself to a traditional hairdo in the "Vintage Victory Rollers" pop-up hair salon or just admire our costume display of different outfits from the era.
---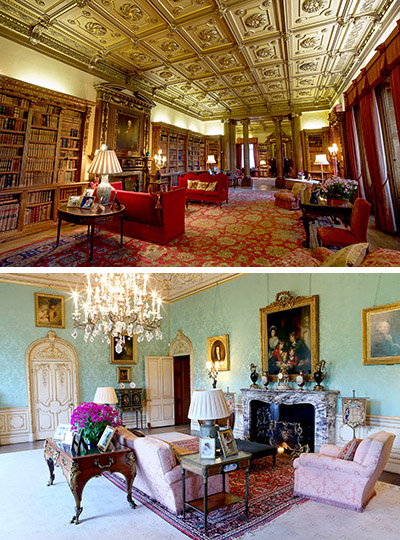 Each day we will create a scene with Highclere scripts to act out and film. We would be delighted if a few guests to this event might wish to take part.
---
A complimentary glass of Pimm's is included within your ticket to celebrate in style. The Castle Tea Rooms will also be open through the day serving a variety of sandwiches, cakes, scones and meals. Each of the two days will follow the same format with Music and entertainment scheduled throughout the day.
---
The event is open from 10am – 6pm. All guests are welcome to spend all day at the event. Morning ticket holders will be able to enjoy entrance to the Castle between 10:30am – 12:30pm. Afternoon ticket holders will be able to enjoy entrance to the Castle between 12:30pm – 2:30pm. Guests who have purchased Event Admission including a table for "Afternoon Tea" can enjoy entrance to the Castle any time between 10:30am and 2:30pm.

We are very much looking forward to welcoming you for a roaring 1920's weekend!
---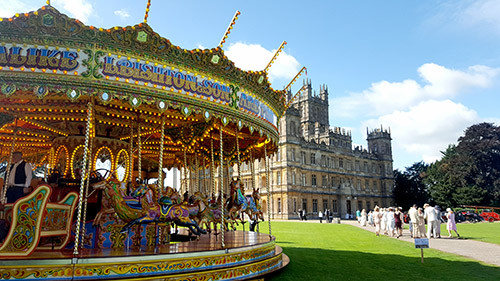 Admission Tickets & Upgrade Options:

'Magic of the Movies' & Castle Tours
Admission Ticket
Adult - £85pp
Child - £30pp
---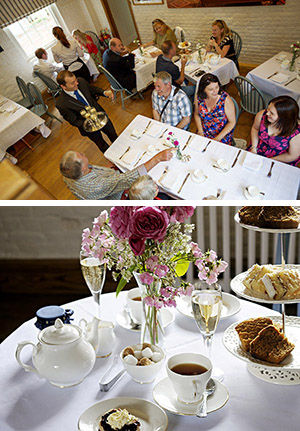 Upgrade Option 1:
'Magic of the Movies' & Castle Tours Admission Ticket, including a Table for Seated 'Afternoon Tea' +£30pp
There are three sittings for "Afternoon Tea" 1:15pm, 2:30pm and 3:45pm. The seating quantity available for each time will be displayed when you click the "number of tickets required" option.
We offer a choice of three menus: our standard menu, vegetarian or gluten-free. Please note that we do not offer a Vegan menu, nor can we guarantee that our products are either DAIRY FREE or NUT FREE.

---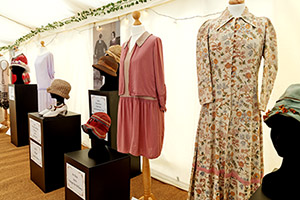 Upgrade Option 2:
Costumes, Cocktails & Castle Tours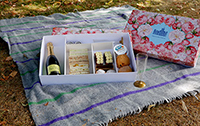 Admission Ticket, plus Picnic Hamper Afternoon Tea +£50.00 (for 2 persons). The picnic box includes a selection of delicious cakes, scones and sandwiches and a Half Bottle of Joseph Perrier Champagne.
Please note that this is a set menu and we are unable to cater for any dietary requirements, nor can we guarantee that our products are either dairy free or nut free.
---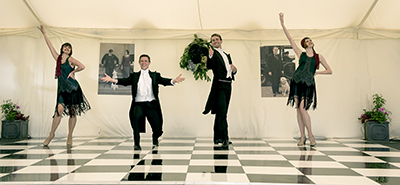 Select your preferred date from the calendar below where the colours in the calendar indicate availability. The website instructions will then guide you through to purchase. On completion of your purchase, your tickets will be emailed to you and also left in your account on this ticket website for you to print to paper before you arrive at the Castle.
(Note: we do NOT post your tickets).