---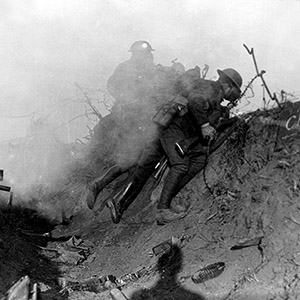 September 1918 marked the beginning of the end of the First World War, culminating in the Armistice two months later.
The Earl and Countess of Carnarvon have chosen this weekend to welcome you to Highclere to mark the centenary with costumes, vintage cars, airshows, exhibitions, cream tea and more!
This weekend is your last chance to see the Castle before we close to film the Downton Movie.
Join us to raise money to support those who serve and those who save in today's world.
---
---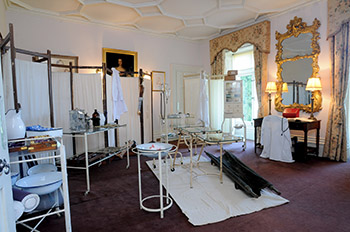 In the Castle
Highclere Castle, a hospital in the First World War, will be open for tours. You will be able to enjoy tours pf the State Rooms, Gallery Bedrooms with recreation of the operating theatre that stood in the Castle's "Arundel" bedroom and costumes from the era. We hope you will also enjoy the tour of our Egyptian Exhibition, which tells the story of the discovery of Tutankhamen's tomb by the 5th Earl of Carnarvon.
If you wish to visit the Castle and Exhibition, please select a 'Castle and Event' ticket, otherwise, select 'Event Only'.
---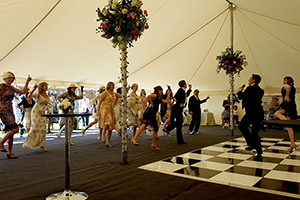 On the Lawns
Discover what it was like to arrive at a First World War Field Hospital, which will be created next to "Médecins Sans Frontières", who will set up their modern Land Rover and Field Hospital which is still in use today.
Hear Julian Fellowes, Kate Adie, Robert Harris, The Indian High Commissioner and other well-known authors and journalists in the Speakers' tent, listen to the Portsmouth Military Wives Choir and Alex Mendham & his Orchestra, learn how to dance the Charleston with The Gatsby Girls and enjoy a fairground ride!
Vintage car displays, a 'History of Flight' tent detailing the planes and crew which crashed at Highclere, cream tea, football and more!
---
In the Air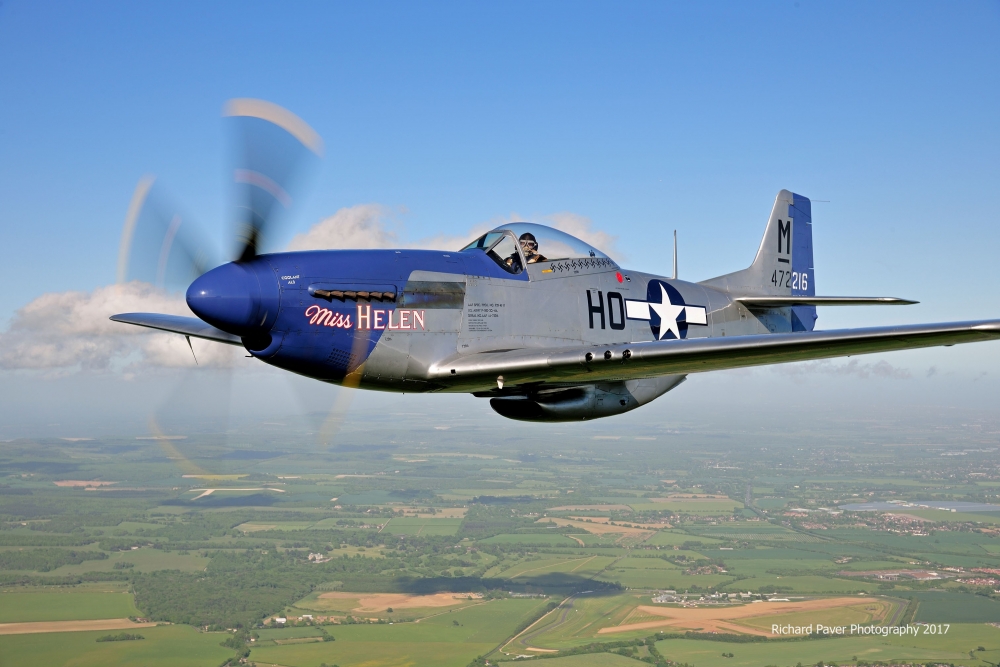 Saturday Airshow 11am-5pm: B17 Flying Fortress, Spitfire, Great War Display Team, Red Arrows, de Havilland Nine Formation Team, Poppy Parachute Team
Sunday Airshow 11am-5pm: P51 Mustang, Poppy Parachute Team, de Havilland Nine Formation Team, B17 Flying Fortress, Great War Display Team, Spitfire
Photo Credit: Richard Paver
---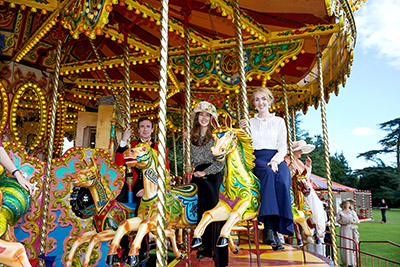 For the Kids
To keep the children entertained, we have a range of activities available throughout the weekend. Become invisible with camouflage face paint, take a ride on the vintage carousel, watch the traditional Punch and Judy puppet shows, have a shoot out at our Laser Tag* or learn to fly a plane on the RAF Flight Simulator*.
*Additional contribution to charity requested.
---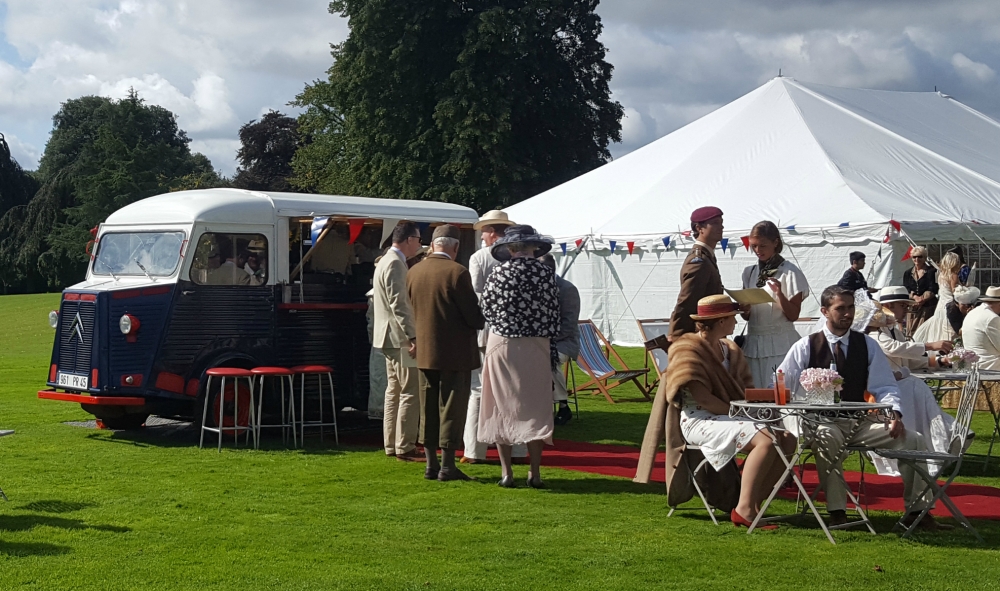 Vintage Food and Beverages
Our Tearooms will be open from 9am, serving tea, coffee and croissants in the morning, they will continue to serve a selection of sandwiches, cakes, hot and cold drinks throughout the day.
There will also be a selection of vintage catering units including Sweet and Savoury Crepes, a Champagne and Oyster bus and Highclere's very own "Josephine": the vintage cocktail van!
We please request that you don't bring any picnics or alcohol into this event on this particular weekend.
---
Sunday Memorial Service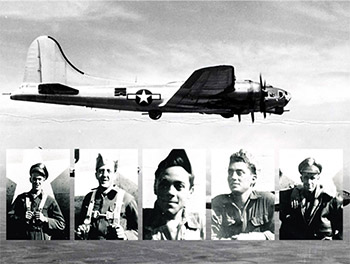 If you would like to join us on Sunday, we are holding a short service at approximately 11.00am. The Multi-Faith Memorial Service will gather together Ambassadors and representatives from a wealth of countries to commemorate the beginning of the end of the First World War and remember those who have lost their lives on active service around the world, particularly those airmen who died on the Highclere Estate.
The Earl and Countess of Carnarvon have dedicated a life-size memorial of an airman, carved from a 200 year old Cedar felled on the Highclere Estate, with trunk rings marked for the years 1914, 1918, 1939 and 1945.
Find out more about the brave airmen on Lady Carnarvon's blog.
---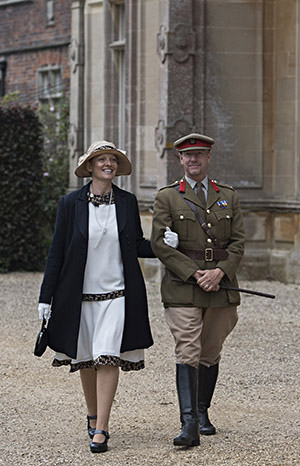 Dress for Downton
Why not enter into the spirit of the occasion and take part in our 'Dress for Downton' competition? Those arriving in WW1 costume will be in with a chance to win prizes for 'Best Lord Grantham', 'Best Lady Mary', 'Best Mrs Patmore' and 'Best Carson' as well as overall 'Best Upstairs' and 'Best Downstairs' prizes!
Costume hire available here.
Serving men, women and veterans are welcome to come in uniform.
---
"This weekend is to raise money for those who serve and those who save. There were many heroes who both died and survived during those terrible years as there are today. The lives of veterans or doctors, nurses or journalists were and are compromised in ways we can barely understand. Join us to support them. We hope Heroes at Highclere 2018 will be a fascinating and meaningful weekend".
~ Lady Carnarvon
---
Heroes at Highclere is kindly sponsored by Viking Cruises.
Please contact csheridan@highclerecastle.co.uk for sponsorship opportunities.
---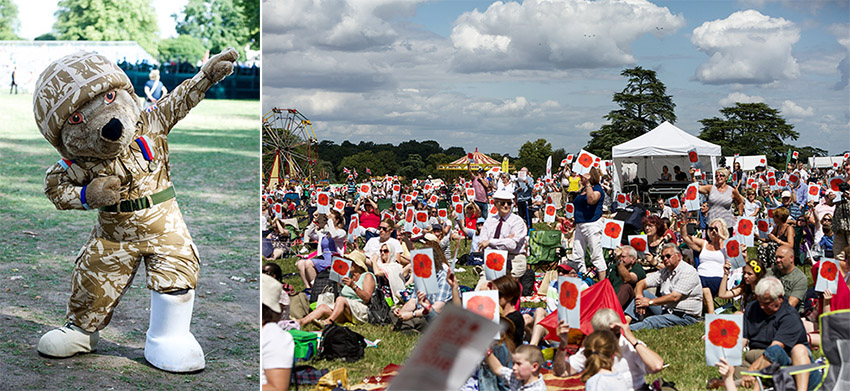 ---
Ticket Information
The event and entertainment in the grounds will be scheduled throughout each day from 9am – 6:30pm.
Event Only Tickets: This ticket gives you the chance to explore the grounds and enjoy the various activities and entertainment taking place, however does not admit you to the Castle or Egyptian Exhibition.
Castle and Event Tickets: To tour the State Rooms, Gallery bedrooms and Egyptian Exhibition in addition to the 'Heroes at Highclere' event. In order to lessen queues, these tickets will have a particular admission time for the Castle:
Group A: Please enter the Castle anytime between 9.30am and 12:00noon
Group B: Please enter the Castle anytime between 12.30pm and 3:00pm
Group C: Please enter the Castle anytime between 3.30pm and 5:30pm
- Additional admission times have been released, select a date below for details.
All ticket options give you access to the 'Heroes at Highclere' event from 9:00am – 6:30pm.
Last admission into the Castle and grounds is 6.00pm. The Castle closes at 6.30pm and Grounds close at 7pm.
We would be delighted if you wish to purchase tickets for both days, however we are unable to offer overnight parking or camping on site.
---
Important note: We reserve the right to amend the proposed schedule of events and entertainment.
---
Please select a date and time to view prices.
These photographs are indicative of scenes from previous "Heroes at Highclere" events.